Movies (short list) TV shows Music Videos Books Comics Documents Links Where to buy Site activity


---
The Straitjacket Page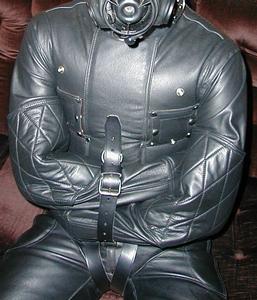 ---
NEW
August 7, 2021
Fixed some bad links, many to go.
Converted the site to https.
Added several YouTube links on the Music Videos page.
March 7, 2014
Replaced Altavista translate with Google translate.
---
The Straitjacket Page
This site is dedicated to Straitjackets and a few other thing. The site include:
Straitjackets.

Self-bondage with straitjackets


An associated page on different ways to buckle a friction buckle.
Bindsteve's approach to putting on a Posey straitjacket solo.


Getting put in to a straitjacket voluntarily.
Getting put in to a straitjacket "against" my will.
Making straitjackets and straitjackets I have made

Restraint sheets.

Posey restraint sheet or net.


Other Restraints, excluding straitjackets.
This is not just an academic interest. The longest I have been in a straitjacket is 36 hours. I have "slept" in straitjackets overnight 28-38 times. I can both get myself into and out of a Posey Straitjacket. (Which, by the way, is a lot of work and takes me about four hours.)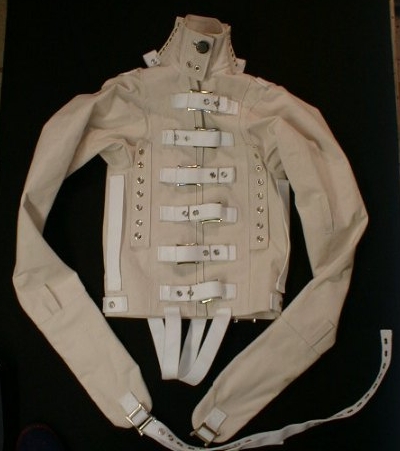 Links to information about San Francisco's weather, earthquakes, and tides. I don't live in San Francisco, but the server for this site does and sometimes my heart.
Please mail me your comments and suggestions at: louis@sj.blacksteel.com
---
Today this page has been accessed 17 times.
Yesterday this page was accessed 23 times.
This page has been accessed a total of 906055 times.

---
This Fall afternoon I may be working hard, but I am thinking about getting tied up. In San Francisco it is Saturday, December 02 at 1:49 PM ().

Thanks Yossie, for hosting my page at blacksteel.com
A Jim Stewart Straitjacket



---
Movies (short list) TV shows Music Videos Books Comics Documents Links Where to buy Site activity