---
Movies (short list) TV shows Music Videos Books Comics Documents

---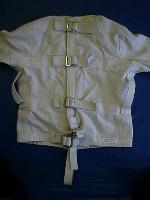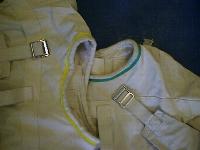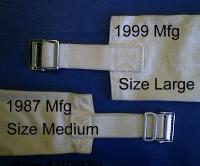 The Straitjacket Movie Page
---
You may want to check out:

Please mail me your additions and suggestions at: louis@sj.blacksteel.com
---
Today this page has been accessed 10 times.
Yesterday this page was accessed 39 times.
This page has been accessed a total of 174676 times.

---
This Fall afternoon I may be working hard, but I am thinking about getting tied up.
Movies and films that straitjackets appear.
Director's names follow the title of the movie.
My ratings
My straitjacket movie ratings.
(no rating)
Haven't seen it (recently)
(no rating)
Haven't seen it (recently)
sj-
no straitjacket
/-
Don't bother
sj*
minor straitjacket action
/*
Not very promising
sj**
passive straitjacket scene
/**
worth the time to watch
sj***
some interesting straitjacket parts
/***
Good movie
sj****
Some force or struggle
/****
I liked the movie
sj*****
Lots of significant straitjacket action
/*****
Very good. Rent it.
Abhay , Suresh Krishna, Copyright 2001
Previews for this Indian film show the main character, Abhay Kumar/Major Vijaykumar (Kamala Haasan) a muscular bald man, behind bars in a Posey SJ.
Alien 3, David Fincher, Copyright 1992 R sj**/**
About 47 minutes into the movie one of the inmates in the maximum security work prison is carried into the infirmary in a straitjacket. There are no good views of the front-buckle jacket in the next 8 minutes during which it appears in five to ten short shots.
Among the Living, Stuart Heisler, Copyright 1941
Paul Raden (Albert Dekker) is in a straitjacket in a secret room in the family mansion.
Asylum, James Seale, Copyright 1996
The movie has at least one good straitjacket scene in the last third. It has a guy being hauled away in a yellow collared straitjacket (Posey?), while he was expecting as call from god. the movie is about a private investigator with a history of mental instability posing as a patient to investigate a murder mystery.
Asylum (AKA: House of Crazies), Roy Ward Baker, Copyright 1972 Rating: PG
This movie features Patrick Muldoon (Patrick Magee?) in a straitjacket after going undercover in a mental hospital.
Batman Begins, Christopher Nolan. Copyright 2005 sj*/**** Rating: PG-13
From a reader: It's not a great jacket. But Cillian Murphy looks very pretty in it. There's some other straitjackets in the movie too, but I can't remember who's wearing them. Movie night! External images: Image 1 & Image 2. Two mentions of straitjackets at 1:10 and 1:39. Two very short sceens at 1:41 and 1:46.
Body and Soul, George Bowers. Copyright 1981 R
When Leon Johnson's (Leon Isaac Kennedy) best friend freaks out on heroin there is a brief straitjacket scene.
Book of Shadows: Blair Witch Project 2, Joe Berlinger. Copyright 2000 sj***/* Rating: R
This confused film has Jeff Patterson (acted by Jeffrey Donovan) strapped into a Posey straitjacket in a padded cell. All straitjacket scenes are short at :04:31(11 sec), 1:06:02(2sec), and 1:17:38(2sec). Jeff does bounce off the walls in his straitjacket. The movie also has a tube feeding and a hose down scene.

The Boy Who Could Fly, Copyright 1986 sj****/****
There is a scene 19 minutes into the film where Eric Gibbs (Jay Underwood) an autistic teenager, is in a straitjacket being hustled into his house at night. Eric is fighting both the straitjacket and his two escorts during this 1 minute scene. (No closeup shots.) There is also a scene later in the movie (1hr27min) where he has his an arm into one of the sleeves of the straitjacket (un-buckled) to warm himself up. It appears to be a Humane Restraint straitjacket. Louis (Fred Savage) plays a very militant third grader.
The Brass Bottle, Harry Keller, Copyright 1964 sj**/*** Rating: TVG
Burl Ives is a genie who Tony Randall releases from a Brass Bottle. Toward the end of the movie (1hr19min for 2min) when Tony Randall tries to tell people what has been happening, he is put into a straitjacket and padded cell. The straitjacket had leather reinforcment on the sleeve strap (locking?), hips and back of the shoulders (locking?).
Brazil, Terry Gilliam, Copyright 1985 R sj*/**
A really strange straitjacket near the start of the film. It is pulled over the head, a strap is pulled from the front through the crotch and hooked on the back, then the arms are brought around to the back. Now just how did the arms get in the sleeves? It has an attached hood(?). A iron(?) collar is added at the end of the dark 15 second sequence. Still excerpts.
Thanks to Bunker in the UK for the video captures. 2.8Mbyte MPEG movie excerpt. 1.4Mbyte MPEG movie excerpt.
Buster´s Bedroom, Rebecca Horn, Copyright 1990 NR
O'Connor (Donald Sutherland) is a doctor, and a female jounalist visits him. He wants to show her his special methods. So he put her in to a straitjacket. The scene takes some minutes, and shows how she is put into the jacket and a little bit walking around.
Carnal Madness, Greg Corarito, Copyright 1974 R
Three inmates of an insane asylum head to a private girls school. Some pictures can be seen at: http://www.teeninperil.com/deligirls.htm. Also known as: Bad Girls, The Sizzlers, Delinquent School Girls, Love Maniacs, and 3 Matti In Un Collegio. Extra names do not make a bad movie better.
Call To Danger, Tom Gries, Copyright 1973. NR
The kidnapping of a Mafia witness - Peter Graves (I think) has an odd looking straitjacket which looks like a HR.
Cheech and Chong's Nice Dreams, Copyright 1981, R sj****/-
A really awful movie. "Hey man!" is the most popular line. Towards the end (1hr12min) Cheech is in straitjacket chained to a corner of a padded cell for a total of about 4min40sec. (There is also a 10 second scene prior to the main straitjacket sequence where Chong is examining a straitjacket in the background.)
Cecil B. DeMented, John Waters, Copyright 2000. R
Cecil B. Demented (Stephen Dorff) is sporting a "modified" Posey straitjacket. He wears it backwards, with the sleeve-ends cut off, and like a regular jacket.
A Clockwork Orange, Stanley Kubrick, Copyright 1971 R sj**/**
When Alex (Malcome McDowell) is given aversion therapy in a straitjacket about 1hr11min and 1hr17min into the movie. Quite violent.
The Couch Trip, Michael Ritchie, Copyright 1988 R sj***/**
This movie has one of the longest sequences that I have seen, Dan Aykroyd spends about 4 minutes in a large Posey straitjacket about 16 minutes into the movie. Two other short scenes at 14min and 90min. A comedy.
Dark Asylum, Gregory Gieras, Copyright 2001 R
"The Trasher" (Larry Drake) spends some time in a straitjacket.
Days of Wine and Roses, John Frankenheimer, Copyright 1958 sj*/***
A 1 minute sequence 48 minutes into the movie when Joe Clay played by Cliff Robertson wakes up from the DTs in a padded cell.
Days of Wine and Roses, Blake Edwards, Copyright 1962
An out-of control Jack Lemmon, suffering from the DT's, gets put in a straitjacket and spends a night in a padded cell. Graphically realistic. (an old HR but sleeve strap seems to be canvas and doubles as a waist belt too)
The Dentist, Copyright 1996 R sj**/-
Dr. Feinstone (Corban Berson) is straitjacketted for a visit to the dentist at the very end (1hr27min) of this bad horror flick. Skip the first hour and a half. Save yourself time to do the laundry or wash dishes. All in all, a waste of money to rent and a waste of time to view.
The Disorderly Orderly, Frank Tashlin, Copyright 1964 sj**/**
Jerome Littlefield (Jerry Lewis) fetches a straitjacket in the opening scene of the movie. He is then placed in the straitjacket by the patient (not shown) in a very incompetent manner. He is hobbled, but his arms are simply connected together in front of his body.
Disturbed, Charles Winkler, Copyright 1990 R
Malcolm McDowell is straitjacketted in this mental hospital horror flick. He also stars in Clockwork Orange.
Dracula, Dan Curtis, Copyright 1973
Based on the Bram Stoker novel. I believe Tom Waits (as Renfield) is strapped into a straitjacket. The sleeves seem extra long and they are tied to the bars of his cell rather than behind him but I think it still qualifies.
Dracula, John Bedham, Copyright 1979 R
The straitjacket scene is near the end of the movie.
Dracula: Dead and Loving It, Mel Brooks, Copyright 1995 PG13
This movie has a weird looking straitjacket.
The Drowning Pool, Copyright 1975 sj**/*
Lew Harper, detective is played by Paul Newman. 1hr 20min into the movie, there is a 5 minute scene where he is strapped in a straitjacket and hosed down with a fire hose. It looks like a Melrose straitjacket. On close inspection the scene has several "flaws". First, the straitjacket is not put on correctly, in fact it was put on backwards. The arm loops under the shoulders are not used. Second, when the straitjacket is getting un-buckled, it is dry and the position of the sleeve end shifts. It is at this point you can see the lower end of the arm loop strap below the right shoulder.

The End, Burt Reynolds, Copyright 1978 R
With Burt Reynolds and old style Posey straitjackets.
Equinox, Jack Woods, Copyright 1993 R
A cult precursor to Blair Witch Project.
Escape, John Llewellyn Moxey, Copyright 1971 (TV)
Christopher George plays an escape artist who is overcome by villains. The beginning of the next scene shows him being pulled in front of the main villain in a straitjacket. In this long scene the straitjacket is clearly visible - followed by him being suspended by his feet and escaping. The straitjacket is like a Humane Restraint with a clingy collar and a very long waist belt in it.
Escapist, Eddie Beverly Jr. Copyright 1983
This is really a vanity project masquerading as a movie. The hero spends a little time trying to get out of a Humane Restraint straitjacket.
Exorcist 3: Legion, William P. Blatty, Copyright 1990 R
With George C. Scott. Straitjackets throughout the film, but not much struggling. The movie uses a modified Humane Restraint straitjacket.
Eye of the Beholder, Stephan Elliott, Copyright 1999 R

Fisher King, Terry Gilliam, Copyright 1991 R sj**/****
This New York city search for the holy grail is well rated. It won many awards. It has two seperate straight jacket scenes. At 50min into the movie there is a 24 second scene with a background person sitting in a very strange emergency room waitting area. He struggles with the jacket a bit sitting in a chair. If you look carefully, you can get another brief glimpse of him as the camera pulls out and up at the end of the sequence. A two second one as part of a flash-back at 1hr40min with a Posey.

On an interesting side note, the director, Terry Gilliam, has three movies on this list. The other two are 12 Monkeys and Brazil.


The Flash: Revenge of the Trickster, Copyright 1991
The trickster (Mark Hamill) is straitjacketted in a pink padded cell at the end of the movie.
Fortune and Men's Eyes, Harvey Hart, Copyright 1971 R
The straitjacket scene shows up about 34 minutes into the movie, and is rather brief (very few seconds), occurring when one of the inmates (Queenie) is visiting the infirmary. The jacketed man is also secured to a bed, and there is a second glimpse (partially blocked by furniture) about a minute later, and a third shot about a minute after that.
Ghost Dad, Sidney Poitier, Copyright 1990 PG
Stuart (Omar Gooding) spends about five minutes trying to escape from a small (red collar) Posey straitjacket.
Ghostbusters II, Ivan Reitman, Copyright 1989 PG sj**/***
All the ghostbusters are straitjacketted in Posey straitjackets stenciled with "PARKVIEW" for a ten second scene about 72 minutes in to the movie. They are being moved down a corridor struggling against the straitjackets.
Good Burger, Brian Robbins, Copyright 1997 PG
This movie is really stupid, but it has some intersting straitjacket moments.
The Great Race, Blake Edwards, Copyright 1965
Starring Tony Curtis and Jack Lemmon starts off with Curtis being tied up in a straitjacket. His ankles then are bound to a rope at the bottom of a hot air balloon. The balloon is released and he's lifted up (managing to free himself before the balloon lands).
The Green Mile, Frank Darabont, Copyright 1999, R sj****/*****
This is a GREAT film. It has straitjackets, prisons, forced straitjacketing, a padded cell, and hosing down a prisoner. It is also a tear jerker. See it.
Hammersmith is Out, Peter Ustinov, Copyright 1972 R
Hammersmith, a genius kept in a mental hospital ends up straitjacketed in a padded cell in the final scene. Not your run-of-the-mill flick.
Hellbound: Hellraiser 2, Tony Randel, Copyright 1988, R
Has a straitjacket that looks somewhat like Humane Restraint straitjacket. Nice and heavy with loooooong sleeves.
Houdini, George Marshall, 1953
with Tony Curtis
Houdini, 1999
Shows the classic Houdini escaping upside down from building scene.
In the Mouth of Madness, John Carpenter, 1995 R sj***/*
The movie starts off with John Trent (Sam Neill) as a struggling and combative guy strapped in a large (yellow neck band) Posey straitjacket being dragged into an asylum. After a solid crotch kick to an beefy attendent he is thrown into a padded cell.

The Invisible Man, Breck Eisner & Greg Yaitanes, Copyright 2000 TV
SiFiction plot with medical twist.

The Jacket, John Maybury, Copyright 2005 R
Image © Warner Independent Pictures.
Jacob's Ladder, Adrian Lyne, 1990 R
The scenes are short but there is one were Jacob Singer (Tim Robbins) in mental hospital strapped to gurney. While he is being wheeled down the hall good shots of this guy in a staitjacket beating his head into a glass window.
Johnny Cool, William Asher, Copyright 1963, B&W
A 'B' film from book "The Kingdom of Johnny Cool" by John McPartland.
The gangsters straitjacket a guy and he is then strapped to a gurney near end of movie. (Not For Children, Violence) (Apparently not on Video!)

Laserhawk, Jean Pellerin, 1997 PG-13
The movie has a great straitjacket scene in it. About mid way into the move Bob (Mark Hamill -- Luk Skywalker from the Star Wars movies) in found in a straitjacket and a padded cell. Hot scene.
Lifeforce, Tobe Hooper, 1985 R sj*/*
This hi-tech British horror film has a sequence of a sleeping guy strapped into a padded straitjacket. The scene is about 10 seconds long 58 minutes into the movie. The encompassing padded cell sequence is about 1 minute long. One of the actors is Patrick Stewart (Jean-Luc Picard - Star Trek TNG).
Love at First Bite, Stan Dragoti, Copyright 1979 PG
There is a straitjacket scene near the end of the movie.
Lethal Weapon 2, Richard Donner, Copyright 1989 R
In the exposition wild cop Mel Gibson demonstrates an escape from a Posey straitjacket. In the straitjacket scene the straitjacket was not properly applied.
Mac, John Turturro, Copyright 1992 R
There is a brief scene, in which a man is dragged into a mental hospital. The scene is shot from a distance.
Maitresse, Berbet Schroeder, Copyright 1976
One hour and 40 minutes in there is a five second straitjacket scene.
Man Who Lost Himself, Edward Ludwig, Copyright 1941 B&W

M*A*S*H, Robert Altman, Copyright 1970 R sj**/***
The Original movie. An MD gets escorted out of the field hospital by MPs in a straitjacket stencled just below the neck. The letters appear to read "USA", but it is not clear.

McVicar, Tom Clegg, Copyright 1980 R
McVicar (Roger Daltrey) an inmate of Durham Prision's high security executes an ingenious escape attempt.

Morgan: A Suitable Case for Treatment, Karel Reisz, Copyright 1966 BW sj**/**
Morgan Delt (David Warner) is a 5 minute dream sequence near the end of the movie gets tied into a straitjacket, lifted (head up) and moved by a junkyard crane. He is then shot by about 30 people and wakes up.
National Lampoon's Loaded Weapon 1, Copyright 1993 PG-13
With Samuel L. Jackson and Emilio Estevez. At least three scenes in first 40 minutes of the movie.
Night Patrol, Jackie Kong, Copyright 1984 R
At the beginning of the low-budget POLICE ACADEMY ripoff the protagonist pulls over an erratically swerving car. The officer asks the driver "Are you crazy?!" and we see that the driver is, indeed, wearing an SJ and speaking French.
One Flew Over The Cuckoo's Nest, Milos Forman 1975 R
Jack Nicholson is placed in a straitjacket.
Penn & Teller Get Killed, Arthur Penn, Copyright 1989 R
This movie very quickly shows a seen of Teller escaping from a straitjacket. It happens when they are watching the movie the Penn and Teller makes.
Penn & Teller Go Public?, Cordelia Stone, Copyright 1985 (TV)
Teller escapes from a straitjacket.
People vs. Larry Flynt, Milos Forman, 1996 R
Not much of a straitjacket scene in this one. The scene lasts about 14 seconds and is about 1 hour into the movie.
Per le antiche scale, Mauro Bolognini, 1975 R
Also known as Down the Ancient Stairs
About an hour in, an SJed young man struggling on a bed.
Pink Floyd: The Wall, Alan Parker, 1982 R
Never shows a person in a straitjacket, but it does show young pink in an asylum where he sees a straitjacket laying on a bed. This happens right before he meets his future self. Also during one of the cartoons towards the end they show a metamorphosis of a guy in a straitjacket turn into a wall.
Popcorn, Mark Herrier, Copyright 1991, R
Straitjacket scene is near the end of this horror movie.
Prick Up Your Ears, Stephen Frears, Copyright 1987, R
Joe Orton was quite a bizarre character who was played in the film of his life by Gary Oldman in 'Prick up your Ears'. Orton was murdered by his boyfriend, a crime that was weirdly chronicled by the Beatles in their 'Rubber Soul' track 'Maxwell's Silver Hammer'. The straitjackets in this production weren't real ones, they looked quite odd, dark green quilted things.
Ready, Woolen and Able, Chuck Jones, Copyright 1960
In this comedy/animation Ralph goes bonkers and is driven away in a straitjacket.
Re-Animator, Stuart Gordon, Copyright 1985
Straitjacket and padded cell scene near the middle of the movie.
The Resurrected, Dan O'Bannon, Copyright 1992, R
Scene near the end of the movie with a straitjacket and padded cell.
Ricochet Romance, Charles Lamont, Copyright 1954
Tom Williams (Chill Wills) in a "longsleeves" straight jacket.
Say it Isn't So, James B. Rogers II, Copyright 2001 R sj**/*
The male lead Gilly Noble (Chris Klein) spends about 2 minutes straitjacketed and gagged in a padded cell about 1 hour 6 minutes into the movie.

Scanner Cop, Pierre David, Copyright 1994 R
Straitjacket scene near the beginning of the movie. Not much struggling.
Secret Desire, Joe Serkes, Copyright 1975

A Sense of Freedom, John Mackenzie, Copyright 1979
Really violent struggle in a very tight straitjacket in a heavily padded cell in a British Prison. He gets out of the straitjacket and destroys the padded cell - true incident.
Seven Beauties, Lina Wertmüller, Copyright 1975 R sj****/?
An Italian film, Pasqualino Settebellezze, staring Giancarlo Giannini as Pasqualino Frafuso. In the second half of the film Pasqualino Frafuso is fire-hosed down, forced into a straitjacket, and tied to a bed with a hole in the center. There is also an ECT scene.
See section 10 of 14 at http://youtube.com/watch?v=hZw81UkM7rU
She's Having a Baby, John Hughes, Copyright 1988 PG-13 sj*/*
There is a brief (10 second) scene where Jake played by Kevin Bacon is in a straitjacket, strapped to a rocket sled. He's harnessed in by a race car 5-point seat belt system. He's riding the rocket sled toward a brick wall. It's kind of a nightmare/dream sequence one hour into the film.
She's So Lovely, Nick Cassavetes. 1997 R
After a violent mishap with a neighbor, Eddie (Sean Penn) is committed to a mental institution by his wife Maureen (Robin Wright-Penn). He has a 10 minute scene sitting in a Posey straitjacket. After he is released, he comes back looking for his wife to make-up and finds that she has remarried to Joey (John Travolta), a construction worker. Eddie (Penn) becomes crazy again and goes on a killing rampage. After he kills his wife's new husband, he is re-committed to the same asylum and is straitjacketted once again.
The Shadow, Russell Mulcahy, Copyright 1994, PG-13
John Lone is in a straitjacket at the end.
Shock Corridor, Copyright 1963. Mostly BW, some color
Two good Straitjacket scenes in it, (1hr 7min & 1Hr 26min) also a good shock treatment (1hr 16min) and a hydro-therapy scene.
Shock Treatment, Jim Sharman, Copyright 1981 PG sj**/*
Seldom-seen mediocre sequel to The Rocky Horror Picture Show. It has perhaps 25 very short, 1-5 second scenes. Lots of padded walls, but not around Brad, the straitjacket victim. At the very end, there is one sequence (about 1hr28min in) with LOTS (100+?) of people in straitjackets.
Shoot or be Shot, William Shatner, Copyright 2002 NR
Harvey Wilkes (William Shatner) an escaped mental patient forces two amateur filmmakers to shoot his script. Movie web site.


Silence of the Lambs, Jonathan Demme, Copyright 1991 R
In a Posey straitjacket strapped a refrigerator dolly with a muzzle. They didn't bother with the front arm loop. 4.4Mbyte MPEG movie excerpt.
Silent Fall, Bruce Beresford, Copyright 1994. R
Story about 9 year old autistic boy and grisly murder. The boy is put into a straitjacket in the beginning. Jack Rainier (Richard Dreyfuss) comes to the rescue.
Siting Target, (???) Douglas Hickox, Copyright 1972. R
(???) Tries to throttle his unfaithful wife through the visitors bars - ends up frothing at the mouth in a straitjacket. McVicar (Roger Daltry). McVicar (Daltry) Looses an argument with Prison Officers and ends up in a very long straitjacket.
Strait-Jacket, William Castle, Copyright 1964. B&W. sj-/-
Two quick "fade-overs" with a front closing straitjacket one near the beginning and one near the end. Arms don't show. Several heads are chopped off with one swing of an ax. Don't rent it for the straitjacket parts. With Joan Crawford.
Strange Brew, Rick Moranis & Dave Thomas, Copyright 1983 sj**/**
Bob & Doug McKenzie are sent to the "Loony bin" by a judge 1hr and 3min into the movie and in the next 30 second scene, they're straitjacketted and in a VERY large padded cell. They play "steam roller" with each other. It's pretty funny!
Twelve Monkeys, Terry Gilliam, Copyright 1995 R sj*/****
James Cole played by Bruce Willis spends a fair amount of time in a grimy straitjacket with straps on the back. Unfortunately, the ends of the sleeves were cut off, so it looks more like a difficult straitjacket to put on than a straitjacket. Perhaps Bruce Willis wouldn't put up with the real thing. A wonderfully convoluted grungy time travel psych ward plot.
The Tommyknockers, John Power, Copyright 1993 R
Moonlighting's Miss Dipesto (Allyce Beasely) looks quite cute in a straitjacket in Stephen King's movie.
Where Truth Lies, William H. Molina, Copyright 1996 R sj***/**
Starring John Savage and Malcolm Mcdowell (of A Clockwork Orange). John gets restrained quite a bit. The straitjacket scenes are a bit lame. The straitjacket, when on is quite loose. The scenes where a straitjacket is being applied always end with one arm in a sleeve. A bit of a disappointment. When he is strapped to a hospital bed, it isn't done "right", non-locking wrist restraints, strap across the chest, atrap acroos the knees, and no ankle straps. (I would be out in 20 seconds.) There is naughty nurse and nice beefy sadistic attendent thrown in. Bloody in parts and sexually violent.
Wishmaster, Robert Kurtzman, Copyright 1997 R
A two second straitjacket scene. Not worth renting for the straitjacket part.
White Heat, Raoul Walsh, Copyright 1949
A straitjacket plays a crucial role in Jimmy Cagney's prison break. Jimmy Cagney is in a straitjacket.

The Wolf Man, George Waggner, 1941 B&W
This movie doesn't show Lon Chaney, Jr. in a straitjacket. There is a hospital scene in which orderlies attempt to put him in a straitjacket.
Thanks Yossie, for hosting my page at blacksteel.com

---
Movies (short list) TV shows Music Videos Books Comics Documents