The "Long-Sleeves" Straitjacket
I purchased this unusual straitjacket through e-bay during the summer of 2000 for about $150. The previous owner apparently picked it up at a surplus auction by the PA state police. I am using the name "Long-Sleeves" because I first saw a picture of it on SJ Floats. That was the name used for it their because of the jacket's very long sleeves.
---
Close-up pictures of:
---
A front and back picture of the long-sleeves jacket.
Note that the front closure on this jacket makes it much easier to escape from. You can see the buckles as you try to loosen them.
---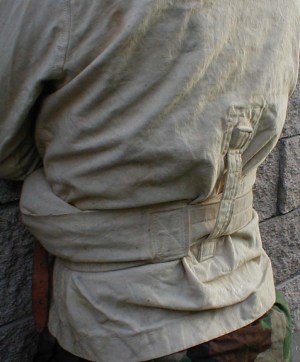 Three pictures showing the back of the jacket. Notice how the ends of the sleeves make it quite close to the loop at the back of the jacket.
---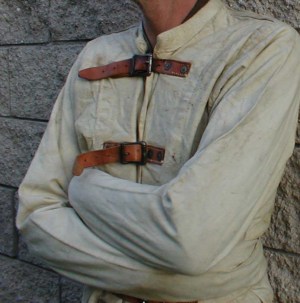 ---
Close-up of neck
---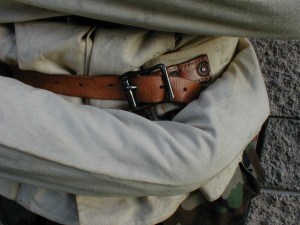 These three shots show the buckle for the arm/sleeve strap. This straitjacket is not very secure buckled this way. It took me about four minutes to get out.
---
This shot shows an alternate placement of the sleeve/arm strap/buckle and an alternate buckling arrangement. This would make escape MUCH more difficult.
---
Today this page has been accessed 2 times.
Yesterday this page was accessed 2 times.
This page has been accessed a total of 20935 times.

---