Melrose Straitjacket
Access counter: 16183 (Started June 6, 2001). Date: Saturday, December 02 at 3:25 PM ().
This straitjacket is front closing.

The front closing design is probably more secure than the typical back closing design, but it would be MUCH harder to force someone into the jacket. This straitjacket has no crotch strap(s). The front is closed with three straps. There are side loops just in back of both side seams to keep the arms from being lifted over the head. These side loops are reinforced on the inside of the straitjacket.

Note: I can also put this jacket on the "entire" way by myself. Sleeves through the side loops and the buckles all tied. The process was very much like the page for the Posey straitjacket, but it required two loops to tighten the sleeve strap instead of just one.

mvc-177x.jpg
---
Instructions on how to tie the buckles. This is necessary. If this is NOT done the jacket is quite easy to get out of by working the sleeve buckle against a fixed object. With the front closing design, the front buckles make little difference. They can ALL be open and you still can't get out of the jacket.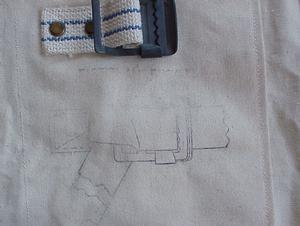 mvc-178x.jpg
---
A note to the "attendant" to make sure the jacket is put on the correct way.

mvc-179x.jpg
---
Label attached to collar

mvc-181x.jpg
---
Sleeve ends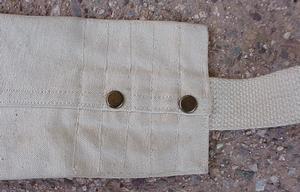 mvc-182x.jpg
mvc-183x.jpg
---
Side loop and re-enforcement on the inside of the jacket.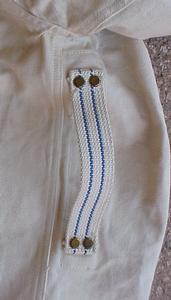 mvc-184x.jpg
mvc-185x.jpg
---
Pictures of the front, back, and side. The model has a flak jacket underneath the straitjacket. This makes the sleeves long enough for the arms and the chest large enough that the jacket looks like it fits. The model "should" have shorter arms and be fatter for this jacket!

The buckles are NOT tied as the diagram shows.

mvc-186x.jpg
mvc-187x.jpg
mvc-188x.jpg
---
Left and right detail side shots.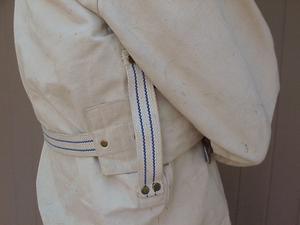 mvc-189x.jpg
mvc-190x.jpg
---
Another front and back shot

mvc-191x.jpg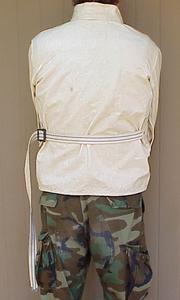 mvc-192x.jpg
---
Collar details.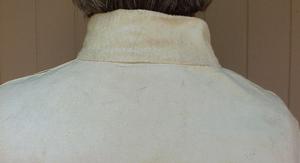 mvc-193x.jpg
mvc-194x.jpg
---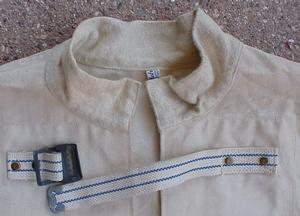 mvc-180x.jpg