marquapdt
This is an older back closing lace up jacket of unknown age and unknown manufacturer..

It is in fair shape and clearly used. It is missing two eyelets, one at the end of the left sleeve and the other at the neck closing. It is somewhat curious that both of these locations still have straps attached. My assumption is that the eyelets pulled out of the fabric and then were carefully cut off at a later date. An XXXL straitjacket. I will need a larger model. The waist is 54 inches. It could fit someone even larger in that the ties could be open at least a few inches.
The name(?) "MARQUAPDT" is stenciled on the jacket three places.

This picture shows the barely visible markings on the jacket. I may not have the spelling correct. The markings are hard to read. I do not know if it was for the patents name, the institution or the jacket's manufacturer.
---
---
This picture gives an overview of the back of the jacket (and a bit of my foot). You can see the attached straps on the top three back eyelets. The top straps, closest to the neck are 20.5 inches long. The next two back straps are 11 inches long. The straps at the ends of the sleeves are a darker color and are 20 inches in length.
mvc-093f.jpg
---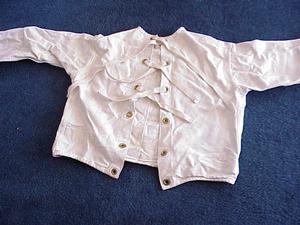 mvc-092f.jpg
---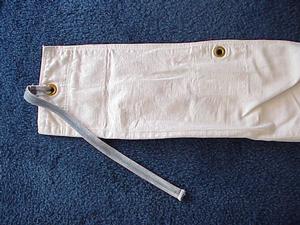 mvc-096f.jpg
---
mvc-098f.jpg
---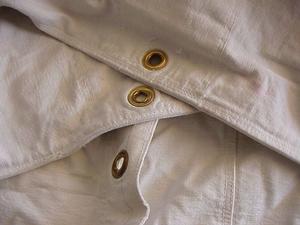 mvc-097f.jpg
---