Movies (short list) TV shows Music Videos Books Comics Documents Links Where to buy Site activity


---
The Straitjacket Page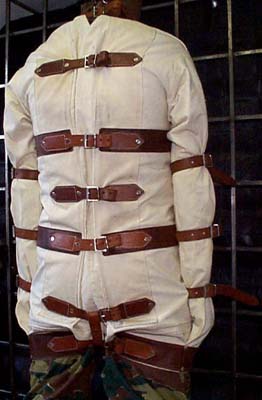 ---
NEW
March 7, 2014
Replaced Altavista translate with Google translate.
---
The Straitjacket Page
This site is dedicated to Straitjackets and a few other thing. The site include:
Straitjackets.

Self-bondage with straitjackets


An associated page on different ways to buckle a friction buckle.
Bindsteve's approach to putting on a Posey straitjacket solo.


Getting put in to a straitjacket voluntarily.
Getting put in to a straitjacket "against" my will.
Making straitjackets and straitjackets I have made

Restraint sheets.

Posey restraint sheet or net.


Other Restraints, excluding straitjackets.
This is not just an academic interest. The longest I have been in a straitjacket is 36 hours. I have "slept" in straitjackets overnight 28-38 times. I can both get myself into and out of a Posey Straitjacket. (Which, by the way, is a lot of work and takes me about four hours.)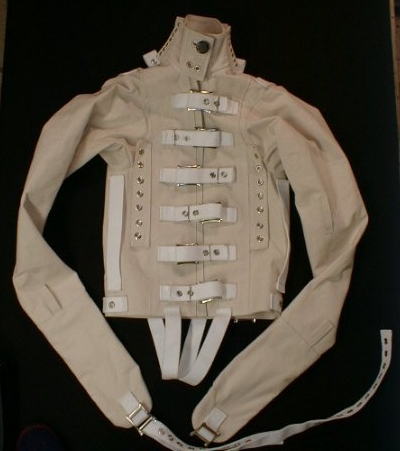 Links to information about San Francisco's weather, earthquakes, and tides. I don't live in San Francisco, but the server for this site does and sometimes my heart.
Please mail me your comments and suggestions at: louis@sj.blacksteel.com
---
Today this page has been accessed 16 times.
Yesterday this page was accessed 28 times.
This page has been accessed a total of 876956 times.

---
This Spring afternoon I may be driving home in rush hour, but I am thinking about getting tied up. In San Francisco it is Wednesday, April 01 at 4:13 PM ().

Thanks Yossie, for hosting my page at blacksteel.com
A Jim Stewart Straitjacket



---
Movies (short list) TV shows Music Videos Books Comics Documents Links Where to buy Site activity