Movies
TV shows
Music Videos
Books
Comics
Documents
Links
Where to buy
---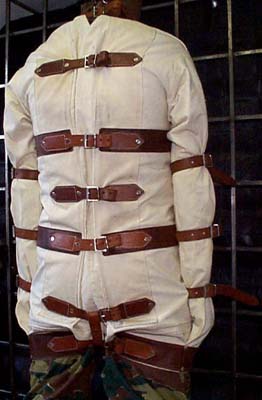 ---
Straitjacket Links
The Duchy It has detailed instructions for making your own straitjacket. They also sell "custom-fitted steel restraints".
Jim Stewart's Houdini Connections site. This is a collection by a great pioneer in restraint play. He has also made and designed several of the restraints on this site.
A site with some of David Page's work. A quote from the artist's statement page:

The Work also plays on our fears, desires and societal and sexual taboos. I intend it to be darkly whimsical and even elegant. Because these costumes and apparatus are designed to be worn or occupied, there is a tension between the piece when it is inhabited, and when it is exhibited without a human presence, which for practical purposes is how most people encounter it. In that case many of the pieces have a hollowed out look and feel to them, bearing the imprint of the last occupant.

Google Print
Google Video
Michael Franzen's Straitjacketpage page. Mostly in German.
The Straitjacket Floats The exciting world of straitjacket fashion.
Yahoo groops.
Must have a free Yahoo id to access the club.
The Bipolar Teddy at Toxic Teddies.
Gillen Industries "is [a designer of straitjacket] alternatives and patient restraint devices".
Please mail me your corrections, comments, and link suggestions at: louis@sj.blacksteel.com
---
Today this page has been accessed 1 times.
Yesterday this page was accessed 5 times.
This page has been accessed a total of 73259 times.

---
Thanks Yossie, for hosting my page at blacksteel.com